Easy Start™ Anti-Colic 260ml Time for Love - Conjunto de mamadeiras
Age
Material
Bpa Free
Acceptance
MAM Anti-Colic is the ideal bottle for an easy switch between breastfeeding and bottle.


MAM Teat with our Silk Teat®, a unique silky-soft silicone surface that feels so familiar


MAM vented base prevents air swallowing, thus helping to reduce colic - in 80% of babies who use it*


Extra wide openings for easy filling and cleaning


With self-sterilising function: so convenient for on-the-go!


* Market research USA 2010 n=35 / Field study Austria 2011, n=73

*Estudo de mercado 2009-2017, testadas em 1508 bebés.
1Estudo de campo, Áustria 2011, testadas em 73 mães de bebés com cólicas /
Estudo de mercado, EUA 2010, testadas em 35 mães de bebés com cólicas.
Quantidade: 2
° Todas as mamadeiras da MAM são fabricadas com materiais que não contêm BPA e BPS (ausência de BPA em conformidade com o regulamento de implementação (EU) nº 321/2011).
Mais informações sobre o produto
1. LID
Spill-proof, protects from dirt. Also works as measuring cup thanks to integrated scale – even for the smallest amounts.
2. SILK TEAT®
Silky soft – for a familiar drinking feeling. Symmetric MAM shape – always fits perfectly in baby's mouth.
3. WIDE OPENINGS
Fast and easy cleaning. Easy filling.
4. VENTED BASE
Helps to reduce colic. Provides an even drinking flow.

DESENVOLVIDO COM MÉDICOS
Colaboração com médicos especialistas para a máxima segurança.
Somente quando os nossos especialistas médicos dão a sua aprovação é que um novo produto da MAM está pronto para a vida do bebê.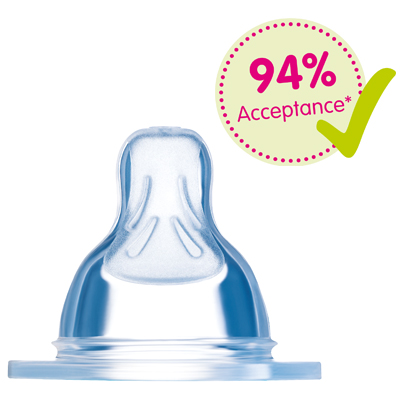 MAM Teat


With the MAM Teat, drinking from a bottle feels completely familiar: thanks to the MAM Silk Teat®, a silky soft silicone surface which babies instinctively like.


Baby approved: 94% of babies accept the MAM Silk Teat®*


(* Market research 2009–2014, tested with 1349 babies)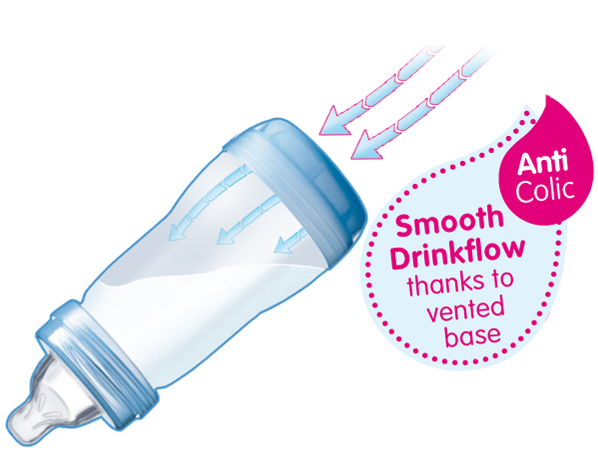 MAM unique vented base for relaxed babies


Prevents bubbles and foaming thanks to bottom-up ventilation


Ensures babies can drink quietly and relaxed


Follows baby's individual drinking rhythm


Proven effect: A medical study and market research confirm that the MAM Anti-Colic reduces colic in 80% of babies who use it.
* Market research USA 2010 n=35 / Field study Austria 2011, n=73
MAM innovative self-sterilising function
For simple & safe bottle sterilisation in the microwave - without a separate sterilising device.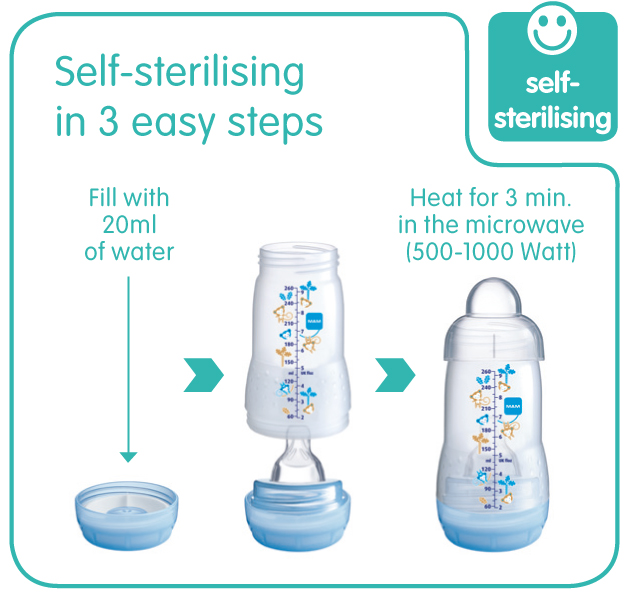 Set the microwave timer according to the number of bottles being simultaneously sterilised:

MAM bottle parts are compatible and can be easily combined