Further Product Information
1. MAM DESIGN
Curved shape is easy to pick up and hold. Spinning rattle for playing.
2. WATER-FILLED COOLING PART
Unique shape reaches back teeth perfectly. Cools & calms.
3. 3 STRUCTURES & MATERIALS
Massage sensitive gums. Ease teething and make teether exciting for babies.
DEVELOPED WITH MEDICAL EXPERTS
Teamwork with medical experts for maximum safety.
Only after approval by medical experts is a MAM innovation ready for baby life.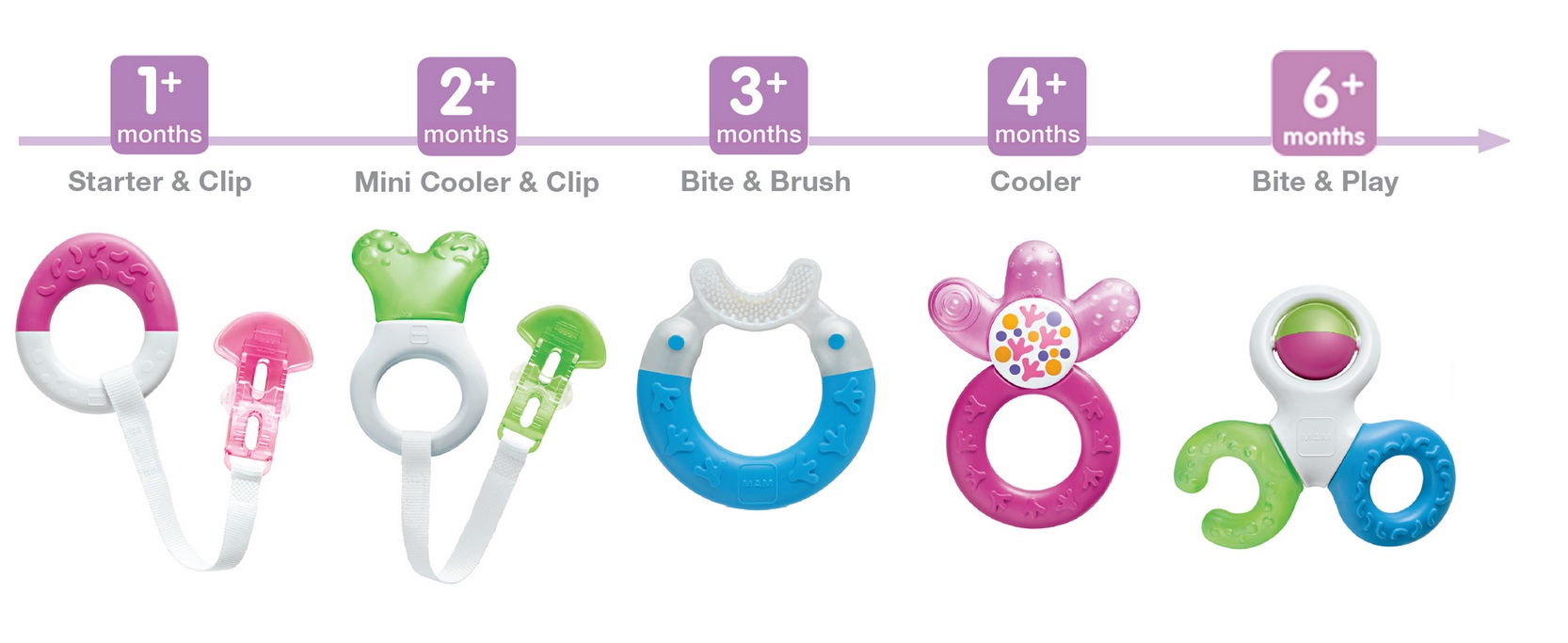 Starter & Clip

The pair for getting started.

The smallest children can hold the teether themselves and the clip ensures it doesn't get lost. This means the lightweight Starter encourages babies' motor skills while the textured surfaces stimulate their sense of touch.




Mini Cooler & Clip

Cools and looks cool – the Mini Cooler & Clip

The smart Mini Cooler has a water-filled cooling element that can easily reach the back teeth. Because it is extra-light and curved, babies can easily hold the teether thereby stimulating motor skills.





Bite & Brush

The Bite & Brush soothes and cleans.

Its soft bristles clean the teeth during chewing and massage babies' sensitive gums for a good feeling. Not to mention, chewing also trains the oral muscles.




Cooler

The Cooler reaches every tooth.

Its water-filled cooling element is perfectly thought out: It can reach every spot where chewing feels good. The curved shape ensures that it is especially easy for small hands to hold the Cooler. Bright colours and a variety of motifs sharpen the sense of sight.




Bite & Play

The Bite & Play can do all this and more.

The water-filled cooling element soothes the gums and reaches the back teeth. Its curved shape is easy to hold. Babies can hear the integrated rattle and the bright colours stimulate their sense of sight.


You may also be interested in the following product(s)