MAM Perfect Night Little Dreamer - Soother
Further Product Information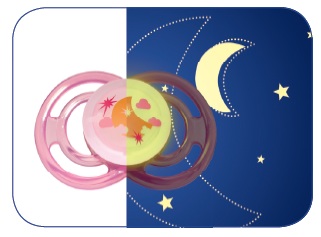 1. SHIELD
Curved for maximum comfort. Skin-friendly through big air holes.
2. BUTTON
Glows in the dark, so parents & babies can find it easily. 100% baby-safe material.
3. MAM DESIGN
Symmetric shape, always fits perfectly in baby's mouth. Designed with dentists for a healthy dental development.
4. SKINSOFTTM SILICONE
Easily accepted by babies. For a familiar feeling.
DEVELOPED WITH MEDICAL EXPERTS
Teamwork with medical experts for maximum safety.
Only after approval by medical experts is a MAM innovation ready for baby life.
Honored with the EU PRODUCT SAFETY AWARD 2019
Your baby means everything to you and that is why we do everything to offer you only extra-safe products. For this reason, many MAM innovations are researched and developed in partnership with medical professionals. In addition, our internal safety standards and testing criteria go well beyond the norms.
These efforts have now been formally recognised by the European Commission, which presented MAM with the prestigious EU PRODUCT SAFETY AWARD 2019. Because for us, there is nothing more worthwhile than supporting the healthy development of babies and making parents' daily life easier.
MAM Perfect
Why MAM Perfect? Why develop a soother with a nipple neck thinner and more flexible than any other?
Independent scientific and medical research has shown that too thick and hard soothers put to much pressure on the teeth and jaw, which can lead to misalignments, also for the permanent teeth.
Therefore, it is important to use a soother that supports healthy tooth and jaw development, even before the first tooth becomes visible. The general rule of thumb says: the thinner, softer and more flexible the teat neck is, the better for jaw and teeth.
Medicine, design, high-tech – the MAM Innovation
The goal, in cooperation with internationally recognized experts, was to design a soother that reduces the risk of misaligned teeth. The MAM Perfect's teat neck is 60% thinner and 4 times more flexible*** than common silicone soothers. The benefits of the MAM Perfect have also been shown significantly in a clinical study. The MAM Perfect supports a healthy tooth and jaw development** and is therefore recommended by medical experts.
**Y. Wagner, R. Heinrich-Weltzien, "Effect of a thin-neck pacifier on primary dentition: a randomized controlled trial", Orthodontics & Craniofacial Research, Volume 19, Issue 3, pages 127–136, August 2016.
***Scientific reports from Wild Hi-Precision institute verify: the MAM Perfect's teat neck is on average 60% thinner; test series by the University Clinic of Dentistry Vienna confirm: it is also on average 4 times more flexible than comparable soothers. (Between: 32% – 83% thinner / 1.1 – 19.5 times more flexible than regular silicone soothers).
You may also be interested in the following product(s)
The ideal bottle for newborns

Small gift set for newborns

The ideal bottle for newborns